Ho Chi Minh City was the venue for a three-day workshop to launch the new FIFA Forward 3.0 cycle
Four-year cycle to the end of 2026 represents an increase in FIFA football development investment of almost 30%
FIFA Chief Member Associations Officer Kenny Jean-Marie: The future looks bright in Southeast Asia (ASEAN)
Representatives of FIFA's twelve ASEAN Member Associations (MA) gathered in Ho Chi Minh City last week for a regional FIFA Forward 3.0 workshop, the latest in a global series.
"As part of our cross-Divisional approach, we invited our colleagues from the FIFA Member Associations Division, Women´s Football, Integrity, Global Football Development and Safeguarding & Child Protection to accommodate your tailor-made needs for your football development ideas," Sanjeevan Balasingam, FIFA Director of Member Associations Asia & Oceania, said in the opening speech to the gathered MAs.
In addition to numerous presentations by the relevant FIFA representatives, bilateral discussions were arranged during which the MAs were able to hold talks with different FIFA experts to address their specific challenges. An approach welcomed according to Vietnam Football Federation (VFF) General Secretary, Duong Nghiep Khoi.
FIFA Forward 3.0 Workshop for ASEAN Member Associations
"VFF is honoured to be selected by FIFA as the venue for this workshop," he said. "This is an important event for federations in ASEAN, including the VFF. We had the opportunity to discuss issues directly with FIFA and this is necessary to guide the process of future development in both Vietnam and across the region."
The impact of FIFA's work carries a huge potential potency, with the ASEAN region representing 700 million people: 8.5% of the world's population.
The FIFA Forward Programme has provided tailor-made support for its 211 MAs since 2016. Two successful iterations of the programme have been completed since its inception in 2016 with over 2.8 billion USD committed to a diverse array of plans and projects. FIFA Forward 3.0 will run until 2026, with the four-year cycle representing an increase in football development investment of almost 30%. A significant element of the investment will support FIFA's goal of having 60 million female players participating in football worldwide by the end of the coming cycle.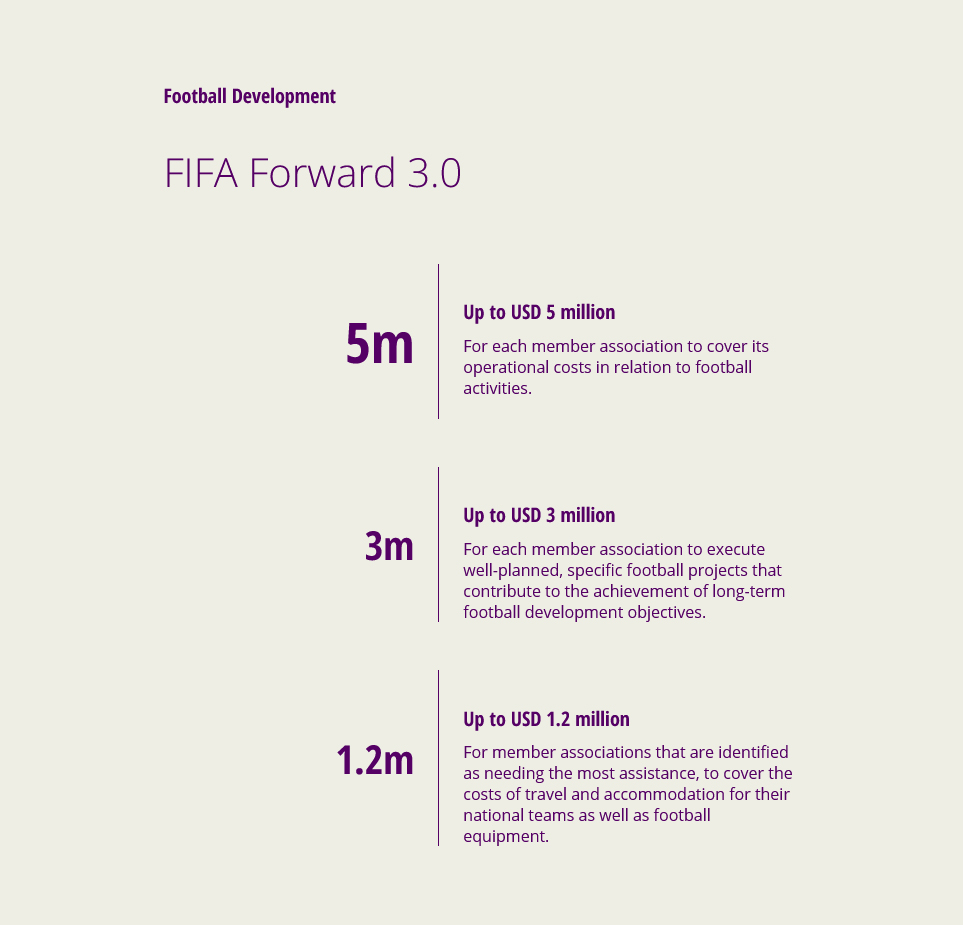 With the FIFA Women's World Cup Australia & New Zealand 2023™ less than five months away and with three out of six MAs from Asia from the ASEAN region (Australia, Philippines and Vietnam) qualified for this flagship competition, FIFA Senior Technical Development Manager Belinda Wilson – who was among the FIFA delegation who presented to the gathered MAs – was optimistic that the future of women's football in the region is bright.
"My main goal with this workshop was to understand how we can support the member associations in reaching their objectives so we can better tailor the support that is needed," she explained on the side lines of the workshop. "We want to help improve the strategic planning of women's football, where it sits within the member association, as well as the levels of strategic investment required in terms of time, resources and obviously funding."
Under FIFA Forward 3.0, FIFA will make up to USD 97.8 million available for the next four years, with USD 112 million already committed from the 1.0 and 2.0 cycles. Across the ASEAN region, a total of 91 FIFA Forward projects have already been approved with some notable successes.
Myanmar built its first futsal stadium, while both Brunei and the Philippines now boast their first-ever technical centres. Cambodia, for their part, have schools from all 25 provinces with football pitches at their disposal, 19 of which were funded by FIFA Forward.
"The impact of the Forward Programme in the ASEAN region is remarkable," said FIFA Chief Member Associations Officer Kenny Jean-Marie. "Whilst football infrastructure has been the primary focus (construction of headquarters & national technical centres and stadia), FIFA has embarked on many other projects, from competitions to national teams funding support."
Having already constructed two full-size natural grass pitches, the Lao Football Federation (LFF) have clearly identified their future goals with the support of FIFA Forward 3.0.
"We are hoping to renovate our stadiums for this 2023-2026 cycle," said LFF General Secretary and FIFA Council Member Kanya Keomany. "At this workshop, we learned that different MAs have different needs, but we share the same purpose and the same direction: to develop football in our countries. With this increased funding, we believe this will help us fulfil our dreams to develop football in our countries and to make football a better place to be for everyone."
Her FA Thailand counterpart Patit Suphaphongs, meanwhile, cast his sights on youth development through FIFA's Talent Development Scheme (TDS).
"There is an ongoing TDS project which we implemented last year," he said. "With the great support of staff and technical advice from FIFA, we are delighted that we will complete the first year of the TDS Programme and we want to ensure that we give every talent a chance."
As the agenda-packed three days drew to a close, the final word went to FIFA Chief Member Associations Officer. "With the increase of funding for the cycle 2023-2026, the future looks bright in the ASEAN region. We envisage even greater impact through the achievement of football development objectives that are aligned to the respective MAs long- term development strategic plans," Kenny Jean-Marie concluded.
The ASEAN member associations are: Australia, Brunei Darussalam, Cambodia, Indonesia, Laos, Malaysia, Myanmar, Philippines, Singapore, Thailand, Timor-Leste and Vietnam.
Source: FIFA